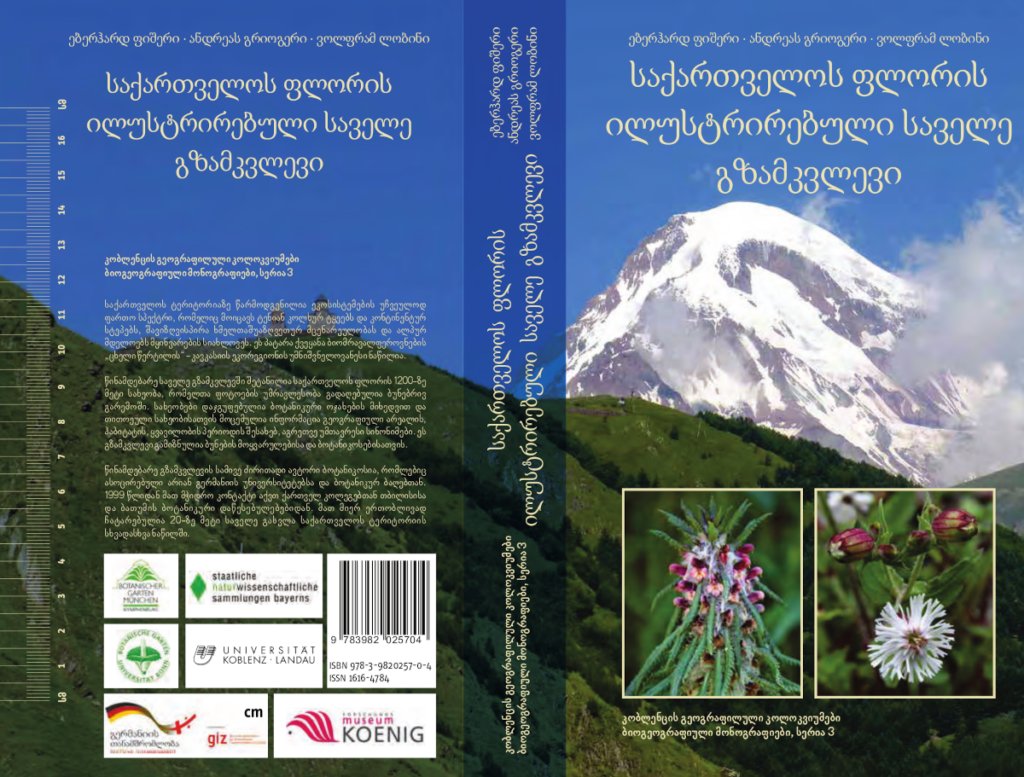 Georgia may be a small country, but it has an extraordinary range of ecosystems, from humid Colchic forest to continental steppe, from Mediterranean vegetation along the Black Sea coast to alpine meadows next to mountain glaciers.
This gives rise to an extremely rich flora, making Georgia a key contributor to the biodiversity hotspot of the Caucasus ecoregion.
The "Illustrated Field Guide to the Flora of Georgia (South Caucasus)" explores this wealth of plants. It is designed as a practical companion for excursions, for both nature enthusiasts and botanists, especially students.
Depicting more than 1,200 plant species on 830 pages, the Guide covers nearly a third of the Georgian flora. Almost all 3,500 photos are of plants in their natural habitats. The species are grouped by family, and each species portrait includes distribution range, distribution in Georgia (shown in 1,010 maps), endemism, habitat, flowering period and common synonyms. The book was published in 2018.
The three authors, Eberhard Fischer, Andreas Gröger, and Wolfram Lobin are botanists, connected to German universities or botanic gardens. Since 1999, they have worked closely with Georgian colleagues in Tbilisi and Batumi and between them they have conducted more than 20 excursions to most of Georgia's provinces.
The project has been supported by Deutsche Gesellschaft für Internationale Zusammenarbeit (GIZ) and Zoological Research-Museum Alexander Koenig.
A Georgian translation of the Field Guide is now available. The translation, by the well-known Georgian botanists Nino Memiadze, Batumi Botanical Garden, and David Kikodze, Botanical Institute, Ilia State University, has been made possible by generous support of GIZ.
This translation can be downloaded here at no cost. The three authors hope that it will encourage greater engagement with Georgia's flora, particularly by students, as it is knowledge and appreciation that will safeguard the future of this remarkable natural heritage.
---
read and free download Georgian language version here:
---
For Georgian students there is a special discount for the English edition of the Field Guide. With your Georgian student ID, this book is available for 50 Lari (regular price 80 Lari) at Gardenia Shevardnadze (see details below).
Eberhard Fischer, Andreas Gröger, Wolfram Lobin (2018)
Illustrated Field Guide to the Flora of Georgia (South Caucasus)
Koblenz Geographical Colloquia, Series Biogeographical Monographs 3
830 pages, softcover, 15 x 23 cm, 3.500 photos, 1.010 maps
ISBN 978-3-9820257-0-4
retail price 29, – €
Ordering address:
Gardenia Shevardnadze
Adress – Nikoloz Khudadovi street No. 138, Tbilisi, Georgia
Telephone number – 0322246703, 599181634
For online shopping – 595054793
Email: contact@gardenia.ge
Or in book shops in Tbilisi